Late last month, intelligence officers from the Afghan National Directorate of Security (NDS) conducted an operation that nabbed "Dr. Faridoon," reportedly a key member of the Quetta Shura, along with one of his bodyguards in the western province of Herat. NDS spokesman Luftullah Mashal said Afghan operatives arrested the pair after receiving information they planned to launch suicide attacks against the Herat provincial directorate of national security and other police headquarters in the province.

It is plainly evident that the Taliban's increasing use of complex assaults has plagued Afghanistan's national security since the start of the Taliban summer offensive earlier this year. Many of these attacks are conducted by militants disguised as Afghan national security forces; this tactic allows the gunmen to blend in easily near fortified Afghan government structures and softer targets.

On Aug. 1, members of the NDS helped take down a clandestine uniform production workshop in the Parwane Du area of Kabul and arrested two individuals linked to making counterfeit uniforms.

In the wake of the raids in August, and likely the intelligence gleaned from the arrest of Dr. Faridoon, the NDS has announced a stiff crackdown against counterfeit uniforms and has reportedly changed the uniforms now worn by its personnel. In a statement issued to Wakht News Agency, NDS urged "the ministries of interior and defense, department for security maintenance of presidential office, private security firms and ordinary people not to use the uniform changed and specialized by the NDS for its personnel and warned to bring any violator to justice...The statement also asks national traders, businessmen and craftsmen to prevent importing, providing and dealing such uniforms or face the law."

While the statement does not describe specifically how the new uniforms differ from the previous ones, it is well known that members of the NDS are typically outfitted with 'tiger stripe' camouflage-patterned uniforms [photo above]. However, lacking the resources and logistical capabilities to maintain consistency, NDS operatives are also known to wear olive drab uniforms that are similar, if not exactly the same, to those worn by members of the Afghan Local Police (ALP).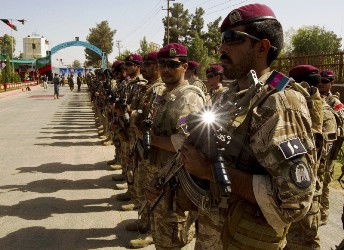 Members of the National Directorate of Security (NDS) stand in formation during a ceremony marking the transition of security from NATO to the Afghan government in Lashkar Gah, Helmand province, on July 20, 2011.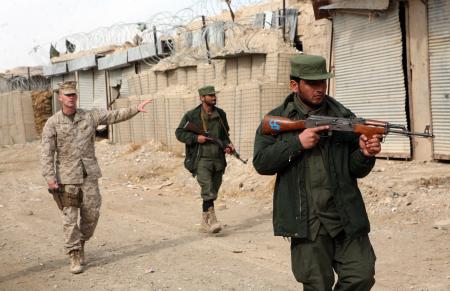 Members of the National Directorate of Security (NDS) conduct a patrol with the USMC in the Musa Qala district, Helmand province. These NDS uniforms are very similar to the ALP uniforms. Source: ISAF.
Members of the National Directorate of Security (NDS) stand guard in Kabul wearing a classic darker variant of the 'tiger stripe' camouflage.
http://www.longwarjournal.org/threat-matrix/archives/2011/09/afghan_nds_continues_crackdown.php