Now onto some USA made examples all of these have the makers details on the back.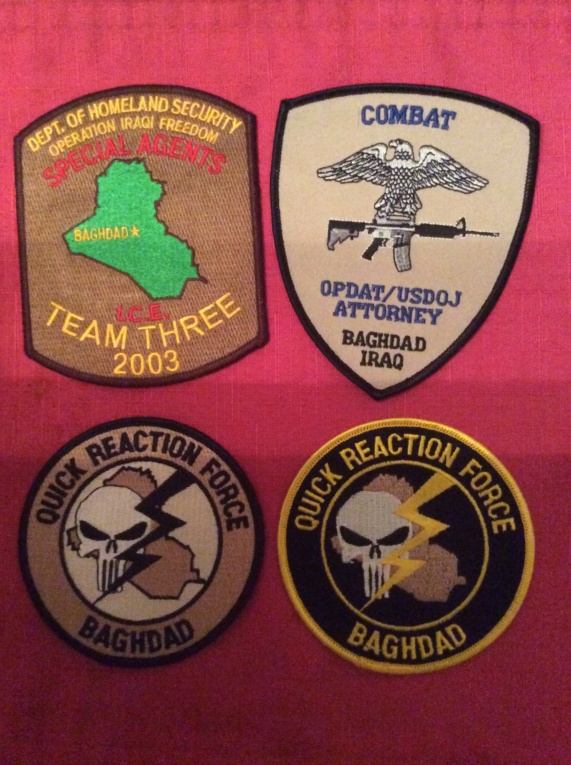 The Department of Homeland Security ICE patch is made by 'Squad Room Emblems' of Port Angeles, WA
The US Department of Justice Attorney patch is made by Kokopelli Traders Inc. of Plantation, Fl.
The QRF patches are US Marshals Service, Special Operation Group also made by Kokopelli Traders. The colour one is no. 19 of 100 and the subdued one is no. 93 of 100.
The Special Inspector General Afghanistan Reconstruction is a US body which
conducts audit, inspections, and investigations to promote efficiency and effectiveness of reconstruction programs, and to detect and prevent waste, fraud, and abuse of taxpayer dollars. SIGAR also has a hotline that allows individuals to report suspected fraud.

SIGAR's mission is to "promote economy and efficiency of U.S.-funded reconstruction programs in Afghanistan and to detect and deter fraud, waste, and abuse by conducting independent, objective, and strategic audits, inspections, and investigations". - from Wikipedia
This patch is made by Capital Emblems
The Federal Air Marshal patch is another example made by Kokopelli Traders and is numbered 76 of 150.