Route Clearance Company patches

hink441

Chief Master Corporal





Posts

: 392


Join date

: 2012-05-03


Age

: 58


Location

: Virginia

Just got these MPRI Route Clearance patches. Pretty cool. Thanks for looking.

kriegsmodell

ADMIN





Posts

: 1873


Join date

: 2010-03-20


Location

: Central Illinois



I like these Chris! Also like how the appear to have been used. Nice!



_________________
"I looked up at the bunker in front of me and saw a khaki-uniformed NVA with a pith helmet, chest web gear, green Bata boots and an AK, Type 56, and no other identifying insignia. Then I shot him." -- Sergeant Tony "Fast Eddie" Anderson, RT Kansas, TF1AE, 1971

"My God, where do we find these men?" - President George H. W. Bush commenting on 1st SFOD-Delta after the Operation Acid Gambit rescue of Kurt Muse.

"Whom shall I send, and who will go for us?" Then I said, "Here am I. Send me." - Inscription on the dog tag resting on the flag-draped homeward bound casket of an American Special Opearations warrior killed in action in Afghanistan, July 2005. - Dick Couch - Chosen Soldier

"Choosing to die resisting rather than live submitting they fled only from dishonor and to meet danger face to face." - Lieutenant General John F. Mulholland Jr, USASOC Fallen Soldiers' Memorial Ceremony, 25 May 2012.

Zeked

ADMIN





Posts

: 2405


Join date

: 2011-01-06


Location

: St Paul, MN

Nice patches. I have a couple MPRI DCU's in my collection but nothing like these cool patches. Like Kreigs said nice and salty!

hink441

Chief Master Corporal





Posts

: 392


Join date

: 2012-05-03


Age

: 58


Location

: Virginia

Thanks guys,
These are definetly used and I forgot to mention that they are velcro backed.

Chris

Nkomo

ADMIN





Posts

: 4777


Join date

: 2010-01-09


Location

: USA

I have several MPRI shirts and a winter jacket, but have never seen anything like this before. Very cool and very uncommon.

Zeked

ADMIN





Posts

: 2405


Join date

: 2011-01-06


Location

: St Paul, MN

Finally got some pictures taken of my MPRI DCU's and I do have a pair to them. Thanks! Zeked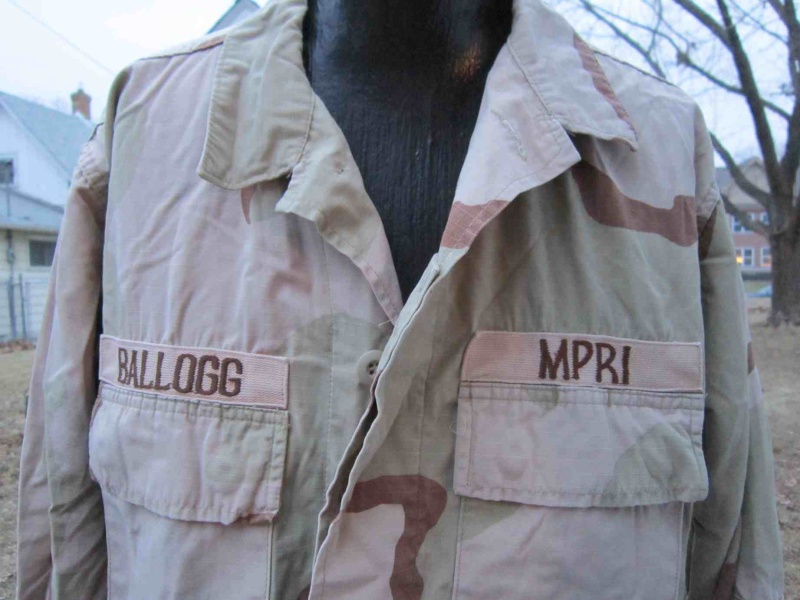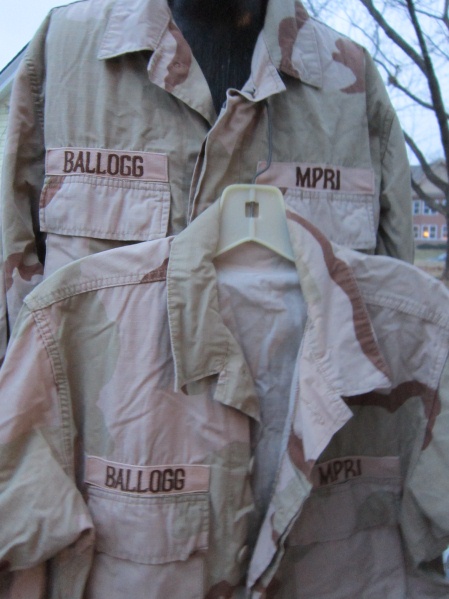 P-E

ADMIN MODERATOR





Posts

: 2918


Join date

: 2010-04-03


Age

: 33


Location

: Belgium (Europe)

Found the name of Patrick R. Ballogg, a former 5th SFG operator (90-95) that's now an Independant Military Professional. He was a Sergeant Major with the 1st BTN, 5th SFG during the Somalia campaign and had been wounded (shot in the right shoulder and hand) in an ambush there in July 1993, during a military convoy.
Maybe this is your man...
Hope this helps

_________________
"As you know, you go to war with the Army you have. They're not the Army you might want or wish to have at a later time. You can have all the armor in the world on a tank and it can (still) be blown up..." - Donald Rumsfeld (Camp Buehring, KU - Dec. 8, 2004)

See my current collection of desert SSI HERE
See my current collection of desert Badges (ranks, qualification badges, Branch of Service) HERE
See my files in PDF on scribd.com HERE
See my collection of jackets HERE