Unknown Iraqi Belt, Need ID

mondo_fondo

Chief Corporal





Posts

: 120


Join date

: 2012-07-06


Location

: Virginia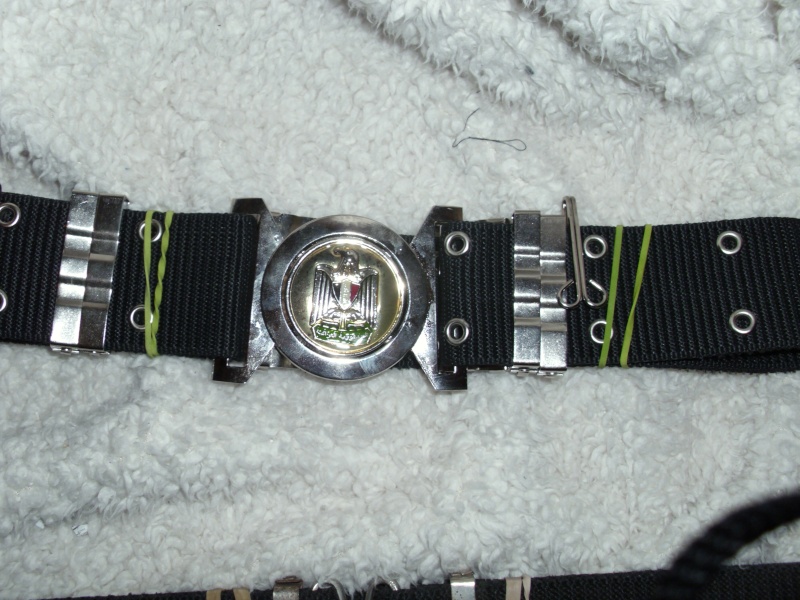 Please Help

Darktrooper

MODERATOR





Posts

: 689


Join date

: 2012-01-18


Location

: Look in your Rearview mirror

The belt is a parade pistol belt you can find in just about every military surplus/ cop shop on earth, and used by just about every army, cadet, police officer and fanatical wannabe in the world. It's a take off of the US issued pistol belts, and this one looks brand new. Theres also those two hooks, those get sewn into dress jackets to put the pistol belts at just above waist level, I have the same hooks on my Dress coat for my PD.

The belt buckle is a standard issue Iraqi belt buckle.

_________________
Honorably Discharged US Army Veteran
SGT, Military Police
OEF VI-VII

cybercarnage

MODERATOR





Posts

: 199


Join date

: 2012-08-02


Location

: USA

Hello,

I believe this belt is a post 2003 dress belt. It could be Saddam era because it has the Pre-1991 Iraqi crest on it, but I haven't seen any like it photographed at least. It is either for police because it is black and silver, or it is for the Iraqi navy. Sometimes they are advertised as Fedayeen, but we don't have any definitive proof that they were used by them.

Nice piece!

-Connor.