U.S. Army GEN. David Patraeus (left), Commander, Multi-National Forces ' Iraq, reenlists STAFF SGT. Patrick Guidry, 984th Military Police (MP) Company, 759th MP Battalion, 89th MP Brigade, on Feb. 24, 2007, at Camp Victory, Al Anbar Province, Iraq, during Operation Iraqi Freedom. (U.S. Army photo by SGT. Rob Summitt) (Released)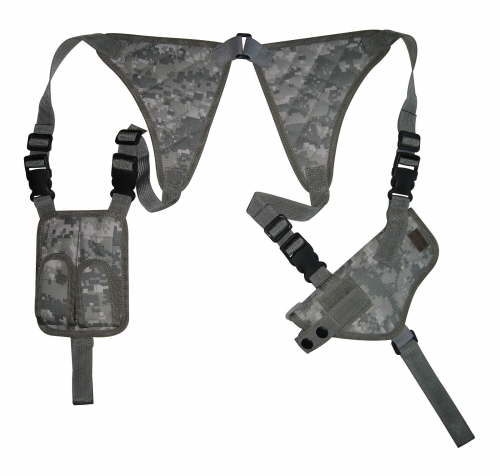 Taigear's Universal Horizontal Shoulder Holster ACU Digital Camouflage, item number TG235AA. Photo from their website taigear.com.
Taigear describes their gear as for airsoft and paintball use. They only sell in bulk, but I found one reseller that offered this holster for $8.64 plus shipping.
What struck me about this photo is the extremely cheap quality of the holster, the ink is so bad it has turned from gravel camo to granite camo. This is juxtaposed by General Patraeus standing directly in front of him. If this cheapest of the cheap gear, which is not even marketed for military use, is fit for display to the highest ranking officer in Iraq, than anything goes.
I don't know how I feel about commercial items like this. They are certainly interesting, but a real pain for collecting.