Well, it's not Private
MILITARY
contractors, but it's still a sort of contractors and so I consider it's the best section to put this topic...But well, if you disagree with me, feel free to move it in the right section.
So here's pictures of shops in Iraq bases :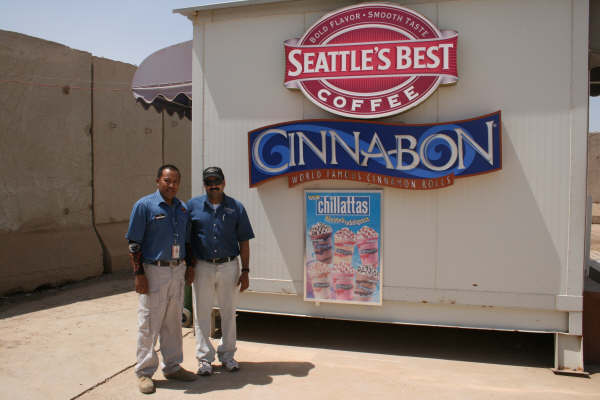 Cinnabon
Various shops : Burger King,...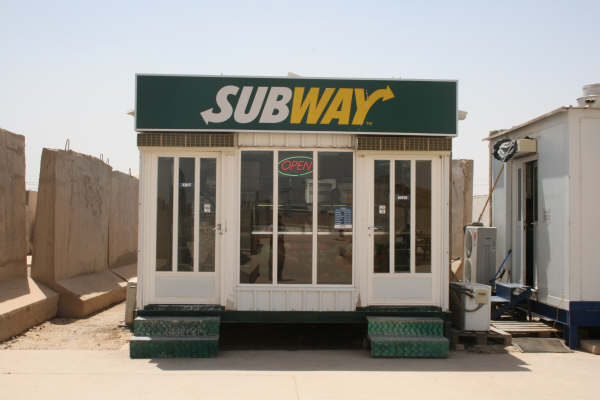 Subway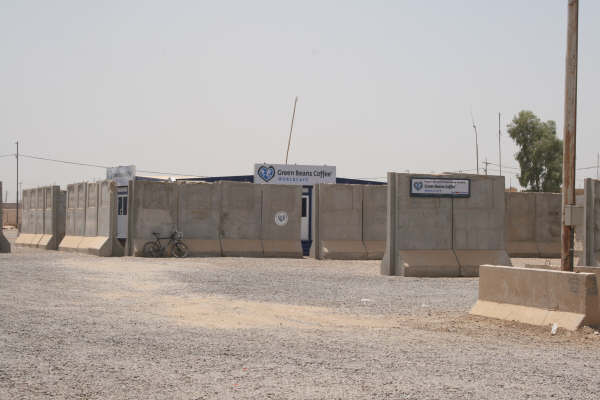 Green Beans Coffee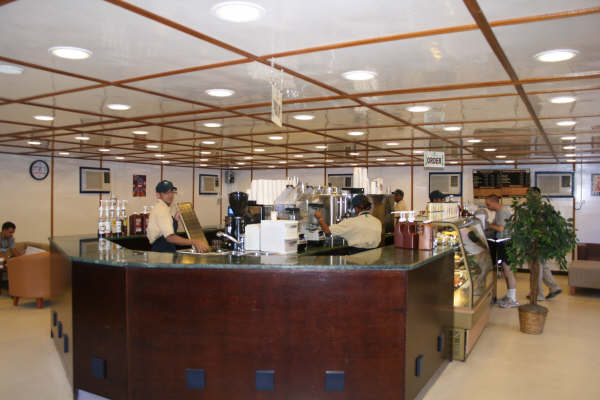 Inside Green Beans Coffee
These pictures come from : http://www.billiniraq.com/
"
Soldiers Keep Weapons Away From Pastry Counters; U.S. Military Uses Mall Food to Boost Morale
Taji, Iraq -- Shopping mall-like food courts may be the most jarring peculiarity when you touch foot within Iraq. Subway and Burger King franchises dot numerous Forward Operating Bases throughout the country. Run out of dust-covered, mobile home-like trailers with `Atco' stenciled in the corner and staffed by employees from emerging economies, a sign on a coffee shop glass counter may catch the mood best: `Please Keep Your Weapon Away From the Pastry Counter.'
Of the hundreds of billions of dollars spent since 2003 on the U.S. occupation of Iraq, a fair slice can be seen in the logistics and infrastructure built to give soldiers civilian-like comforts in a warzone.More than 100 fast-food outlets exist in Iraq and other active theaters, and the military has invested in so much retail infrastructure `to help mitigate some of the difficulty of being away from home for 12 to 15 months,' said Lt. Colonel Todd Royar, commander of 4th U.S. Army Division's 3rd Armored Calvary Regiment, located at Taji Airbase, north of Baghdad. `On the major Forward Operating Bases, the soldiers definitely like that. The contrast to that is this is still a combat situation for them.'
The costs for fast food aren't cheap in a war zone. A 12-inch Subway Tuna sandwich will cost $6 and a meal, which includes chips and a drink, $8, while a Burger King Whopper with fries and a drink can run $6.70, not a small expense for Private First Class making less than $25,000 a year. Yet dozens of customers can seen here each evening, passing up the free all-you-can eat chow at one of Taji's two 800-seat dining facilities.
``Being out here, the stores makes a difference,'' said Private First Class Dale Gardner, a driver with the 41st Transportation Company at Taji who is 12 months into a 15-month tour. You're missing your family and going to Pizza Hut -- I live four block from a Pizza Hut at home' in Oklahoma.
Store outlets can make revenues of $100,000 a month at Taji, where about 10,000 military and civilian personnel live. Workers at the franchises can save more than $1,000 a month, big money for those who plan to return home to India, Bangladesh and Nepal.
`In one month I can save a lot money,' said Deepak Kishore, supervisor of Taji's Green Beans Café, which offers gourmet coffee and wireless Internet. Green Beans is a privately-owned firm run by two brothers, Jon and Jayson Araghi, based in Larkspur, California, that has opened more than 35 cafes on Coalition military bases in Iraq, Kuwait, the United Arab Emirates and Afghanistan in the past several years.
Green Beans pays better than the other outlets, up to $1,300 a month plus tips, which can add several hundred more a month, said Kishore, who is originally from Kerala in southern India. The Subway and Popeye Chicken franchises, owned by Kuwait-based Las Palmas can pay around $900 a month.
The outlets pay a concessionaire fee to AAFAS, a non-combatant arm of the U.S. military, which oversees management of all commercial activity on U.S. bases, including Post Exchanges. AAFAS managers refused to comment on the stores' operations.
Another Kuwait-based firm, Al-Homazi Food Services operates Cinnabon, Pizza Hut and Burger King franchises within the country; Cinnabon has 12 employees at Taji from Egypt, Sri Lanka, India, Nepal and Bangladesh, with counter employees making about $600 a month, plus $40 in free phone calls. The parent business, Seattle's Best Coffee, receives about 40 percent of the profit from the outlets, said Jimmy Thomas, also from Kerala, who runs the Taji base store.
Green Bean is open 24-hours, another benefit to troops in the field that may find themselves on base at any hour. One item needed in the middle of the night is the MOAC (Mother Of All Coffees), which costs $4.
`They're very customer oriented' at Green Bean, said First Sergeant Derek Likes, one of the chiefs of maintenance for a helicopter squadron. `They already have my drink set up for me and my First Sergeant comes in.'"