I was able to trade into this group and feel I did relatively well. All in all there were the following:

7 DCU's with patches
1 set of reversible Gore-Tex (3-Color to Night Desert)
1 Ranger RACK with pouches
1 DFLCS in ACU made by GCS (Garrett Container Systems)
1 PASGT helmet with Airborne pad and 3-Color DCU cover
1 Lowering line for a pack
3 DCU caps
1 ACH reversible helmet cover with graffitti
1 Blackhawk holster
1 leg panel
1 TBH helmet cover
1 USAF SF armband with Arabic writing
1 USAF SP armband with removeable US flag (velcro)
1 set of ESS glasses w/ bag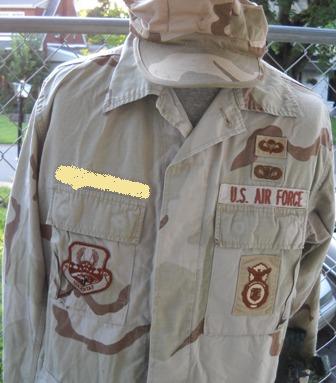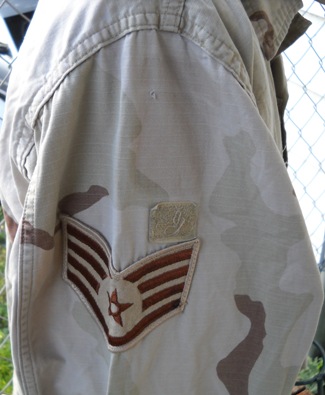 I think the velcro square on the left arm may be for attaching one of the brassards. The velcro square on the right arm....I'm not so sure about. Possibly for glint tape or IR square? Also notice the ghost patch on the right sleeve. 173rd ABN or 10th Mtn. Div.?