Good Day All. WOW....I am happy to show off my recent items - all 10 items fitting rather nicely in to my PSYOPS speciality. A long standing friend serving within the German OPINFO unit (PSYOPS)sent these treasures from his most recent tour in Kunduz (and surrounds)Afghanistan - OEF.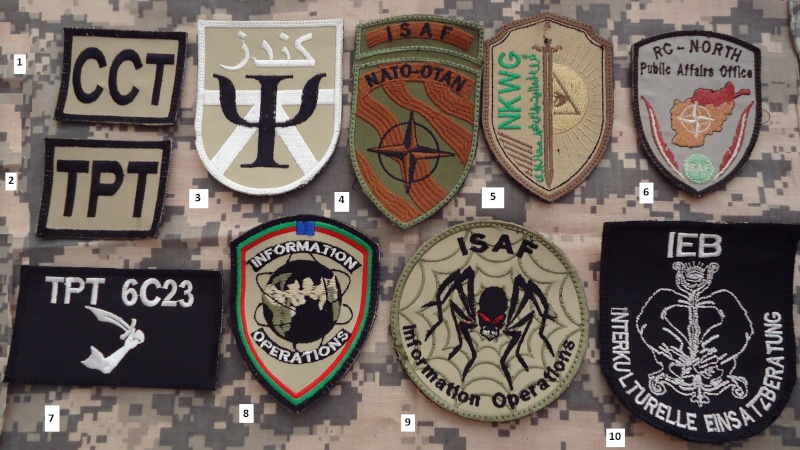 1) German Combat Camera Team CCT - Combat Camera is a PSYOPS Center controlled function in Bundeswehr.
2) German and Belgian Tactical Psyops Team patch.
3) German OPINFO Team Kunduz - PSYOPS Team
4) NATO ISAF patch
5) Non Kinetic Working Group Advisory Team - 109th AFGHAN Corps. Non Kinetic Warfare - an interesting term comprising CIMIC, INFO OPS AND PSYOPS
6) Regional Command Public Affairs Office
7) Tactical PSYOPS Team Task Force Northern Lights TPT 6C23
8) NATO INFO OPS ISAF
9) ISAF INFO OPS
10) German IEB - Intercultural Ops Advisor - part of the German OPINFO Center
As one can imagine - I am stoked with these items.
Andrew