Well.....I have been working on this display since February of this year. For the last two years, our local museum has put on a Veterans Appreciation event for the community.

It usually starts on a Thursday evening with the showing of a WW2 era movie. This year they showcased Irving Berlin's "This is the Army".

Friday evening consists of a local veteran speaking of his or her experiences. This year they had the son-in-law of a B-25 pilot talk about his father-in-law's experiences during WW2.

This year, Saturday was a military memorablilia show. The event organizer had envisioned setting up a show where collectors would bring in their collectibles to share with the public. Originally, 30 people had signed up to display their items, but when Saturday arrived, only 11 people showed up to display their items. My dad and I had 4 tables between us and if we hadn't of showed up, they would have a small square of tables in the center of the room with displays.

My dad did three displays and they were: "Guns of the Little Big Horn", "Guns of Stalingrad", and "Civl War Rifles Identified to a Specefic Individual, State, or Battle".

I did "US Special Forces in Afghanistan 2001 to 2003". Other than the museum, I was the only exhibitor who had a mannequin display. Everyone else had their uniforms on the table for display. There is nothing wrong with that, but nothing beats a fully dressed mannequin.



I got a lot of "neat display" or "cool", but only one question from a spectator. This older lady walked up to me, pointed to one of my displays and said "I know those are the caps worn by the Mujahadeen because I saw them wear them when I was over there. What are they called?" I told her they are called pakols and they are the traditional headgear for the Afghans. She thanked me and walked away.

I had quite a few people take pictures. One of the picture takers was a member of the VA staff. She told me it was a great display.

I did not have any kids or adults ask silly questions. No smart -aleck comments. It was a GREAT first display.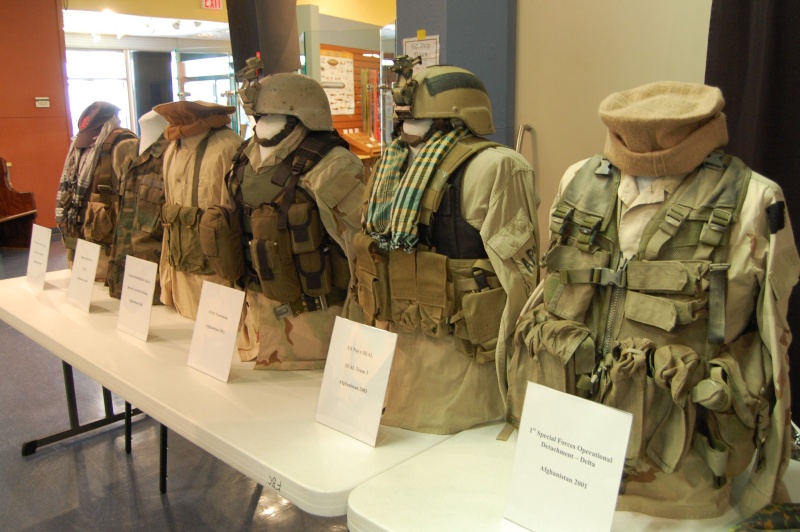 Last edited by nkomo on Tue May 22, 2012 6:50 am; edited 2 times in total