The Canadian Special Operations Regiment (CSOR)is a battalion-sized, high-readiness special operations unit part of CANSOFCOM. CSOR is capable of conducting and enabling a broad range of missions, including Direct Action (DA), Defence Diplomacy and Military Assistance (DDMA), Special Reconnaissance (SR) and Domestic Counter Terrorism (Dom CT).
The unit traces its roots to the First Special Service Force (FSSF), the fabled Canadian-American Special Forces unit that was stood-up in 1942 and earned the "Black Devils" moniker for daring night raids on German forces at the Anzio beachhead[2].
In April 2005, the Canadian government's new defence policy statement was made public. It included a concept of first responders for international tasks consisting of "special forces" (such as an expanded Joint Task Force 2) supported by one of the light battalions.
This concept of operations is similar to the Special Forces Support Group of the UK Special Forces Group who support high-level Special Forces units. This eventually led to the formation of the Canadian Special Operations Regiment (CSOR), although CSOR was not to be limited to a supporting role.
"In the main, the Canadian Special Operations Regiment enables special operations and, specifically, JTF2; thus, JTF2 can focus on the precise tasks for which they are so well selected and trained. However, particularly in out-of-area operations, we see that the Canadian Special Operations Regiment would be the more appropriate organization to put to the task." (Colonel Barr, commander CANSOFCOM, in Proceedings of the Standing Senate Committee on National Security and Defence, 27 November 2006.)
Recruiting for the new unit took place in early 2006, and the first CSOR selection course took place with approximately 175 candidates.
On 13 August 2006, an official stand-up ceremony for the Canadian Special Operations Regiment took place at the unit's home station, Canadian Forces Base (CFB) Petawawa, with approximately 250 soldiers participating. The ceremony included a skills demonstration including rappelling from helicopters, and both static and freefall parachuting. It was also announced that the second training serial of CSOR recruits would take place in early 2007.
The regiment suffered its first casualty on 24 June 2011 : Master-Corporal Francis Roy died in a non-combat incident while deployed in Kandahar Province, Afghanistan.
The regiment has maintained a presence in Afghanistan since 2006, in support of the Canadian and coalition forces in the southern province of Kandahar.
The regiment also works with international partners, and helped in the training of the Jamaican Defence Force counter-terrorism assault team.
The regiment will be deployed with international partners to help fight al-Qaeda in Senegal. This is the first time in history that the Canadian Forces will participated in the Joint Combined Exchange Training held in Africa.
[url=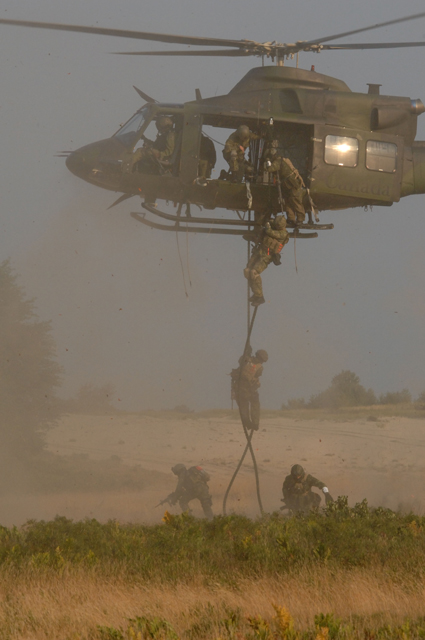 ]