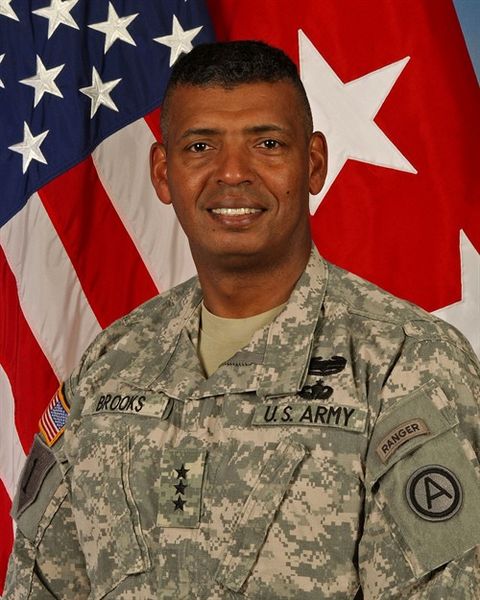 Maj. Gen. Vincent K. Brooks, a U.S. Military Academy at West Point graduate of 1980, became the first black cadet in the school's history to be named cadet brigade commander (the top-ranking cadet). In this position, which is somewhat like the president of a college class, he led more than 4,000 cadets during his senior year. Brooks then graduated first of his class.
Moving through the ranks in the Army, Brooks served as a brigade commander during Operation Joint Guardian in Kosovo. In June 2002, he became the spokesman for the U.S. Army Central Command in Qatar during Operation Enduring Freedom. During the American-led war with Iraq in the early months of 2003, Brooks handled the daily press conferences for the command and was widely referred to as "the face of the U.S. military."
During his 29 years as a commissioned officer, Brooks has served in command and staff positions in the United States, in Germany during the Cold War, in Korea, in Kosovo and in the Middle East. Currently he serves as the commanding general for the 1st Infantry Division. (UPDATE from wikipedia) He served as the Commanding General, 1st Infantry Division at Fort Riley, Kansas April 2009 from to May 2011 and then became 3rd Army Commanding General.
http://www.army.mil/africanamericans/profiles/brooks.html
http://en.wikipedia.org/wiki/Vincent_K._Brooks
Most of you will remember him. He was Major General when assigned to CENTOM as a Deputy Director of Operations and spokesman for the media during the Invasion of Iraq '03.